Reserve a spot in a Cabo San Lucas hotel with all the amenities you need for a summer escapade.
3br – New Cancun Oceanfront Luxurious Condo for Rental
$393.00
A luxurious high rise building located in the heart of the famous Hotel Zone in Cancun. It is surrounded by shopping malls, restaurants (more than 50), famous nightclubs and the most gorgeous beach front all within walking distance. Our condo is on.
2br – New Oceanfront Villa – Isla Mujeres / Cancun
$172.00
This spacious 2 Bedroom home boasts panoramic, 360 degree views of the Caribbean from the back, as well as Cancun Bay, from the front. Watch the sunrise from your bedroom window overlooking the Caribbean, and the sunset from the front porch, or enjoy.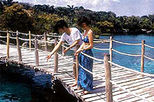 Xel-Ha All Inclusive Day Trip from Cancun
$98.99
Come enjoy the magical creation of the Mayan gods: Xel-Ha, a place where the best of the Mexican Caribbean nature comes together. The world's most spectacular, natural aquarium invites you to embark on an aquatic adventure created by the Mayan gods themselves. This special place gathers the best of the Mexican Caribbean all in one place!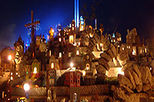 $95.99
Visit an incredible eco-archaeological park, where you can spend a day in paradise relaxing and enjoying nature, snorkeling, activities, shows and more! For more than a millennium, this nature park and archaeological zone has been an important ceremonial center and Mayan port. Xcaret is located 34 miles (55 km) south of Cancun, near Playa del Carmen.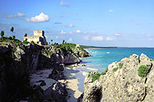 Tulum and Xel-Ha All Inclusive Day Trip from Cancun
$114.99
Discover the mysterious beauty of Tulum and the stunning, natural Xel-Ha aquarium. This relaxing, all inclusive excursion from Cancun or Playa del Carmen will give you the opportunity to explore the spectacular Mexican landscape and natural aquatic life. This family friendly excursion is sure to leave the entire family in awe!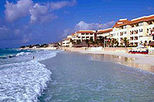 Playa del Carmen Independent Day Trip from Cancun
$28.99
Spend a day exploring the delightful seaside town of Playa del Carmen on an independent day trip from Cancun. With plenty of free time, you'll have the opportunity to visit famous Fifth Avenue, home to restaurants, shops and some of the best souvenir shopping in Mexico!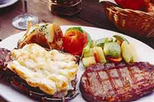 Lobster Dinner Cruise from Cancun
$88.99
Escape the crowds in Cancun and enjoy a beautiful cruise on the Nichupte Lagoon. Feast on a delicious lobster and steak dinner while cruising along the lagoon and listening to the mysterious sounds of the jungle. This truly is an unforgettable experience and a must do when visiting Cancun, Mexico!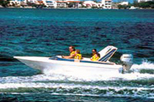 Jungle Speed Boat Tour from Cancun
$65.99
On a wave runner or speedboat for two, set off from Cancun on a breathtaking tour across the Nichupte lagoon. Ride through the dense mangroves, the Nizuk River and the Caribbean Sea, all the way to the Nizuk Coral Reef where you'll snorkel among living colorful corals and a myriad of tropical fish.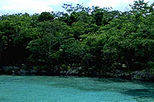 Cozumel Independent Day Trip from Cancun
$58.99
Explore Cozumel at your own pace without restrictions or timetables. Your independent day-trip includes transport from your Cancun hotel, the ferry to Cozumel and around seven hours of free time to relax and explore this beautiful Mexican destination. Without a set schedule, you can visit the beaches, engage in water sports, go snorkeling and scuba diving, visit museums, go shopping and enjoy all the other great attractions offered on the most beautiful island in the Mexican Caribbean!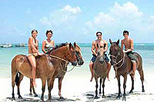 $69.99
See the exotic surroundings of Cancun by horseback on this relaxing day tour. Surrounded by Mexican jungle and stunning vistas, this trail ride is scenic and peaceful. This is a great way to escape from the bustling city of Cancun and enjoy a day in the Mexican outback!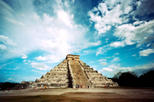 Chichen Itza Day Trip from Cancun
$59.99
Spectacular Chichen Itza holds both mystery and magic. Explore the most important archaeological zone and ancient capital of the Mayan Empire on a full day guided tour from Cancun. Admire the majestic observatory, the sacred cenote, the ball court and the castle. Sample typical Mayan cuisine at a buffet lunch with folkloric dancers before beginning your tour of the famous UNESCO World Heritage Site.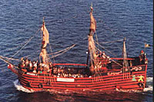 $81.99
Become a pirate of the Caribbean on this fun-filled voyage where you'll go back in time and experience a pirate's attack while sailing through the beautiful waters of the Nichupte lagoon. All this while enjoying a pirate's dinner and the open bar! A fun adventure for all ages!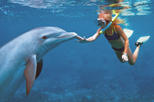 $98.99
Have you ever kissed a dolphin? Here is your chance to get close to one of the sea's most incredible creatures. Be amazed at how intelligent these animals are. Relax while you are taken on a belly-ride around the water by your new friend and watch their playful antics as they show off a series of energy filled activities!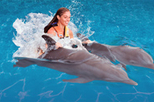 $128.99
Mexico offers one of the most exhilarating experiences available. The Royal Dolphin Swim is the perfect way to discover this gentle, friendly and intelligent mammal! Prepare yourself for a memory that will stick with you forever as you are pushed by the dolphins at high speeds around the water. Truly an unforgettable experience!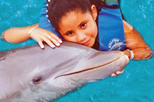 Cancun Dolphin Encounter Program
$68.99
Discover the secrets of nature's most intelligent marine creature, the dolphin! Ideal for children of all ages, the Cancun Dolphin Encounter Program enables you to learn about this amazing mammal while experiencing the unique sensation of being kissed by a dolphin! Experience the excitement of seeing them perform a series of high energy, entertaining tricks!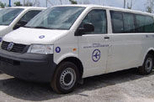 Cancun Airport Roundtrip Transfer
$27.99
To make the most of your vacation, be sure to book round trip airport transfers and save both time and money! Get to and from your hotel comfortably and with the minimum of fuss and stress. Skip those long airport lines and head straight to your greater Cancun area hotel!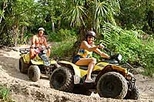 $49.99
Start your engines. Are you ready for the ride of your life? You'll have an unforgettable adventure driving your own all terrain vehicle along well-maintained trails through grassland, jungle and mangrove before reaching an idyllic Caribbean beach where you can enjoy a refreshing swim in the crystal-clear waters!